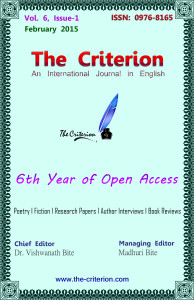 Book: The Mother I Never Knew
Author: Sudha Murty
Publisher: Penguin Books India
Year of Publication: 2014
Number of Pages: 206
Price: 250 INR
ISBN – 9780143422259
Reviewed By:
Dr. Divya Pandey
Department of English and MEL,
University of Allahabad, Allahabad.
Sudha Kulkarni Murty, a Padma Shri awardee is an Indian Social worker and author. She is a passionate teacher, philanthropist and columnist, an all in one icon in the present day. She is also the chairperson of the Infosys Foundation. She started her career as a development engineer with TELCO (now Tata Motors) and has also taught computer science to BSc and MCA students at a college affiliated with Bangalore University. She is a prolific writer in English and Kannada. This year I went through her new book The Mother I Never Knew. This book consists two novellas , both novellas explore quest by two men –each searching for a mother he never knew he had. Both novellasdivided into eleven chapters each.
First novella is the story of a bank manager, Venkatesh, who lives in Bangalore. When the story begins, we come to know that he has been transferred to Hubli and because of that he is upset. One day Venkatesh sets out for Shiggaon to attend a function, where he is mistaken by a jeweller with someone else who looks like him. In that function again he is mistaken by someone. After that he is determined to find more information about his look-like. He starts investigation and find out that Shankar is a primary school teacher and works in Shishunal. There he searches out many things about Shankar and his mother Bhagavva. He is surprised to know about his father's hidden past which includes an abandoned wife and a son. Bhagavva was his father's first wife and Shankar was his son. Venkatesh is determined to make amends to his impoverished step-mother. At last he decides to help them with fifty lakhs to repay his father's debt.
I really enjoyed the story of Venkatesh as he was such a nice man of traditional values and morals. The way in which he searches out his father's mystery, the way in which he goes about finding the truth was all very compelling and interesting. It was really very nice reading about his family.
The second novella is about Mukesh, a young man whois a programme executive at BBC in London, where he is responsible for covering India's cultural and heritage section. One day, after his father's death, he is shocked to know that he is an adopted son. He starts to find out his biological mother. He is so much confused about his loyalties with his mother. At last, he decides that his loyalties lie towards his mother who brought him up.
The Mother I Never Knew provides a short and sweet read and can be read in one go.The language and theme also relaxes the reader and let him relish the beauty of SudhaMurty's writing. I loved the book for its simple writing and good content. In the plot SudhaMurty explores relationships in depth. The characters are what drives this book apart and add spice and colour to the simple plot.