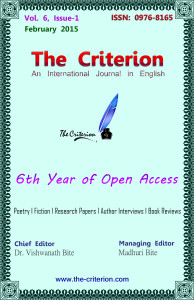 Satyameva Jayate – Truth Alone Triumphs
Ashok Niyogi
Timorously I submit
That a middle-aged body-builder rabbit
In disguised platform heels
Despite his prickly ears
And satanic baby face
Seems palpably dishonest
In that he adds to his lay.
For stories true though few
I always look at feet.
They meet at uncannily naked moments
To exchange life tales
And innumerable eclectic 'points of view'.
On our otiose busman's holidays
Mr. Rabbit totters into our autumnal homes
With sanctimony on raised insoles
Precarious vainglory
In knobby t-shirt and bandy jeans.
With omniscient narrative voice
He cajoles our deaf and dumb Christ
To rise up from iniquitous quagmire
And hold his celestial nail-varnished hand
Be his gullible virgin again and again
Effulgent with egregious edited orgasm
Lost in time space relevance
Between credulous commercial slots.
Voluptuous crookedly holy and upright
Liberated nuanced socio-scientific
Studiously atheist bent of mind
And fairness cream for underarm.
Let us all pamphleteer our outrage chorus
Before we belch beer and brunch
Spread out on lawn tables
Among the yellow-blue Crocus.
Please devour mutilation trauma fear hate
Candle-light long long-shots
Anguished tangled eyebrows
Plucked in extreme close-up
Mothers fathers sisters whores
Pedophilic uncles indoors
Silhouetted anonymous victims predators
Celebrating
Washed up poets post-alcohol sea sand
Faux Hemingway types
Who have lately discovered family life
Jungles where
Tigers endorse tourism shows
Ogre troll gnome demon front row
Seraph angel cherub sprite standing
All lined up for extreme wide safari shot.
Hobgoblin dance with caffeine-free Sprite
In detergent rainbow-pixel youth dominated universe.
"We always shop for the week from Costco
And quickly feed our post-outrage partum
Before we gorge on India-nostalgia…
One winey afternoon on our way to Napa
In the new Toyota mini-van
We reminisced about our teenage hero
Who daddy says declines to grow.
Now back in San Ramon
The fellow does look grotesque on UHD."
Move on.
In these godforsaken times
This boy-man my daughters adulated
Is already an Akbar** in perverted reverse
But refuses to give up
His incredibly sad
Middle-aged place in the sun.
Last winter we went to Fatehpur-Sikri.
Slanted sunrise long shadow
Akbar built his ceilings low
Level with partridge low flying
Level with stature horizontally spread
Courtyards instead.
We lesser mortals perforce bow
To imperial absolute stature
'sans crack or flaw'***
We bend for Akbar Emperor
And so as not to bruise our taller heads.
"To hell with high heels
I will bring the sky down
And let horizons kiss my feet."
Akbar too was five foot three.
But I guess they hadn't then
Invented high heels for warrior-men.
Notes:
The title is the first two (in Sanskrit) words of Sloka 3:1:6 of the Mundaka Upanishad associated with the Atharva Veda. The Sloka is:
Truth alone triumphs, not untruth;
by the true the path is laid out…
the way of the gods, on which old sages
'satisfied', proceed to where
there is that highest place of the True One.
The title is also that of a popular Sunday morning TV show in India.
Jalal ud-din Muhammad Akbar (1542 – 1605), known popularly as Akbar – 'the great', was Mughal Emperor from 1556 until his death. Fatehpur Sikri was his capital for fourteen years; Akbar built it to honour the Sufi saint Salim Chisti.
Berowne in Shakespeare's 'Love's Labour's Lost – V:II'