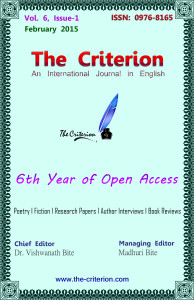 My Meeting with the Duke of Ferrara
Mrinal Kanti Ghosh
That's my last hubby hung on the wall,
Still appalled; him a poor creature I call:
The photographer used the perfect angle.
Have a seat, please; be comfortable.
When he, with a marriage proposal,
Had come to our house, I, then a girl
Of twenty, was blooming rosier, like a flower
After puberty, in the menstrual shower.
He chose me; I had no choice
But to smile at my father's voice.
This snap, sir, was taken on the seventh
Day of our marriage, when my faith
In him was lost. He wanted to paint me
After his imagination, as if I'd no reality;
Not imagination actually, but the tradition
And custom of his sex, you know. Malfunction
Began in our relationship right from the night
When we first met on bed; a terrible fright
Occupied him. Do you take sugar in your tea?
Oh, that night, an interesting story! He and me,
After the guests had left, entered the room;
Our bodies foaming like wild seas; the groom
Looked like a lizard aiming at a moth. I
Raised my hands to let him undress me; shy
I was not. But the sight of my armpit hair-
Grown smooth and ebony- rocked his chair,
Disturbed his thoughts, his opinions, his being.
In a voice petrified he did sing:
Not beautiful, not womanly, not sexy,
Not lady-like, not customary…
NOT and NOT and NOT!
…
Sip at your tea till it is hot.
And then, commands he gave;
I too was adamant not to shave.
Next day I dyed them red, exactly
The colour of menstrual blood! Fiercely
He reacted; I didn't pay any heed.
His misdeeds began; I sowed the seed
Of resistance. He lost, he fled, and never
Returned. Since, this photo has been there,
Not as a memory, but warning for those who
Will try to trim my nature, cut my shoe.
Thank you for your proposal. Nice meeting you,
Sir. I've to attend some proposals new.
Have a look at this new vase; I own this,
And I'll decorate it as I wish!