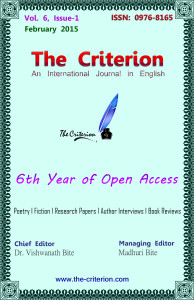 An Unnamed Revolution
Vidya Panicker
Kerala, India
The crunch of bones being shattered is followed by a wail, which could have come from any human being, but I instantly sense that it is you who has fallen.
A brief, ominous silence ensues.
The inflicting weapon could have been a brick or a short, thick log of wood. Whichever, the impression is tremendous and hastily, either parties stop on their tracks and allow your people to carry you out. Your flaccidright hand with a tan watch strap, dropping from someone's shoulders, confirmsmy fears.
But by the time I come rushing, they have already taken you away. I do not know where you are, and I begin with the first number on my mobile phone, saved under the name ABC, but as we both know, ABC is you. I let the phone ring for two complete rounds expecting someone to pick it up, without realizing that it has droppedout of your pocket in the flurry of events and is currently ringing in the college ground, which also has droplets of your blood, bits of crushed bone from your face and your left molar neatly cleaved into two. I am now getting desperate to know whether you are alright, and if so, with what levels of damage on your body.
After my umpteenth attempt to call up one of you, your moderate friend among the radicals attends his phone. But he absolutely refuses to disclose your current location on grounds of security. I insist. He informs me that you arein the men's hostel. I know from his voice that it was a plain lie. I threaten him to walk into the hostel myself and check. That forces him to share your whereabouts with me. He explains that you are in the government hospital near the community center where we were planning to get married after a few years as it was the only place where two adults from separate religions could marry without their parents' permissions and without too many questions asked. I have already started saving money for the deposit of 25,000 rupees, I know you never would.
I get into an auto rickshaw with my best friend whom you despise because he is, according to you, a female ape in a man's skinbecause he sings in the college functions and takes all his exams diligently. He offered to accompany me when he foundme weeping near the auto stand, my body shivering. He gently helped me into the rickshaw, and we do not talk until we reach the hospital.
The government hospital is a largely neglected place with an abhorrent malodor settling around it, flashing unpleasant images in my mind —of rotting amputed limbs, fetuses scratched out of the mothers' womb prematurely and cotton rolls soggy with antiseptics, ointments, blood and pus. I do not have to ask anyone where you are, because your entire gang is there, right in front of the casualty building.
"We had to bring him into a government hospital and register a case with the police," one of them explains, apologizing to my unspoken accusation of not taking you to a better place.
I do not say anything, shrug him off and step inside the sparsely lit corridor of the casualty which majorly consisted of two groups of people, the ones who cannot afford costly, decent medical help and the others who were injured in accidents and brought into the emergency ward by people kind enough to leave them here and disappear before they themselves were branded as culprits by the police on suspicious grounds. While a few of the victims would be moved to real hospitals by their relatives when they are informed, the others would cough, bleed, vomit and disappear into the bowels of the overcrowded wards, sometimes reappearing, most often not.
You are a rare, yet familiar specimen — a victim of a political bout who by default is also a potential criminal. I find you sprawled unceremoniously on the iron cot with a mattress with a plastic layering, without a bed sheet or a pillow. Suddenly I am reminded of your 4-bhk apartment in the most posh locality of the town where we have spent several lazy afternoons together. You are unconscious, but tossing and turning over in your sleep. Pain, I sense it.
One of your friends comes in with an admission card with your name spelt wrong, I wonder if it is intentional. No one ever gets your name wrong. You are the most admired and resourceful person on our college campus.
"The strength of my ideology, rooted deep within, earning me respect", you often said.
"Your deep pockets regularly funded by Riyals from your father working with a petroleum company in Saudi Arabia", I would think but not reply.
Your face is against me, so I can see only your dust laden pants and bare feet. You were hit on your face and I would see you ultimately, but I need a moment to compose myself before that.
How do you look? Or how did you look before today?
You were certainly good looking in a rugged sort of way. Long face. Pointed chin. Stubble that refused to disappear and which made me rather concerned about presenting you for a job interview, not that you would agree for one. A long, patriarchal nose which was symbolic of your bourgeois origins, something that you despised and attempted to fervidly deny. Plain black eyes. Thick mop of eyebrows that made me address you as the demonic king 'Ravana' in our private moments.
I am going to miss the face. But then ever since I began the relationship with the most esteemed, temperamental and capable man on the campus which we shared, I have learned to accept that I would miss several things by default.
Theater for instance. You vehemently disregarded my request to allow me to act in the play which would caste me in the lead role,moments after you overheard my professor who half-jokingly suggested that with my talent, I should audition for some role in a movie.I still feel guilty towards the several pairs of jeans and t-shirts in my wardrobe which I replaced with loose fitting Kurtis to suit the image as your girlfriend.
Before I can collate the rest of the items on my 'miss-list', your moan wakes me from the reverie. I am as I ready as I would ever be to face your face and walk towards you. Laying on a decrepit mattress that carried the stench of the fluids from several other men and women before you, squirming in pain, I felt that for the first time in our union, you need me more than I do. I sit near and gently hold your hand.
I can now see your face. It is grotesque, but I am not as shocked as I should be. The left side of your face is a bloody, mangled mess. Along with clotting blood, I can also see your pulverized bones, the remains of a teeth and the raw, ripped up gums through the gaping hole on the side. If you could smoke now, a mushroom of white fumes would form on the left part of your face and the tar would settle down, rimming the gap like boulders around a well. Perhaps this would be a reason for you to quit smoking those reeking bidis which you are excessively fond of. "Ideology," as you often explain explained, relating to me the tales of the comrades long before you who survived on bidis and sugarless black tea while underground and running from the police. The staple food of revolutionaries. Why then did your other modern and younger comrades smoke Marlboro or Wills cigarettes at your expense? You would explain as you always do that principles are learned and not compulsively forced upon anyone. How are they learned then? Does the political party on which you have laid your faith organize study classes anymore to teach the youth about the meaning or the importance of the principles like freedom, equality or power to the working class? Have any of them ever seen a sickle or scythe in their lifetimes? Allow me to remind you again that I am the one who has read Marx, Lenin, Orwell and Yelchin, not you or a single one of your comrades. But to your utter distaste, I am familiar with the works of Sydney Sheldon, J.K Rowling and Dan Brown too, which pars down my efficiency as a knowledge bank of your ideology, branding me as a spoilt bourgeois brat.
A male nurse walks to you, a tray in his hands, with the intent of dressing your wound. He reminds me of the torturer in the Nazi regime — good looking, polished and impeccably dressed, yet menacing. I do not know how much pain you are in currently, but I can assure you that in the next few moments, it is going to multiply without dimensions.
I was not wrong.
The man feels no compassion for you.
He abundantly squeezes out the disinfectant saline on your open wound and in a few moments, your shriek fills the room, silencing everything and everyone else.
"Don't do that!" I tell the man.
He passes a nefarious look at me and I am certain that if I utter another word, he has several other means of hurting you further. He scrapes away particles from your face with the same countenance of scrubbing paint off a wall with sandpaper. All your manly resolve aside, you are now weeping like a baby. I am worried, unhappy, but I have to remind myself that all this was anticipated in the path you were dangerously treading on, paying no heed to my pleading or warning.
The man applies a dark brown antiseptic paste on the wound, wraps it in a gauze and is done in another few minutes. He observes his handiwork and appears satisfied. With another contemptuous and flirtatious smile in my direction, he walks away. We are left alone now, you and I, but you purposefully shut your eyes to avoid looking at me.
"They are moving him to the general ward."
I am not interested to see the face of your friend who said this, he would, without a doubt, be biting his lips, pretending sorrow and would strenuously avoid looking me in the eyes. He and a few others help you out of your bed and on to your feet. You almost scramble down and fall, but someone holds you steady.
Hercules can no longer stand on his two feet without help!
If the casualty room was dirty, the general ward for men is downright filthy. The stench is unbearable, but more so is the piercing stares of the men and their bystanders, passing greedy looks at the body of a girl who was definitely not brought up on a frugal diet of a tightly-run family. In one of those rare months of the year, when the rains are not too hard to cause cholera or diarrhea and the heat not too unbearable resulting in an outbreak of all varieties of fever, a few beds are empty. I am relieved that you are spared of the fate of being slumped on a mattress or some sheets of newspapers on this dirty floor in the event of not having a single vacant bed.
The men in the hospital ward follow a system similar to a prison. Seniority matters. The longest occupant gets the best bed, right under the fan or near the window. Being the most resent admission, you have neither, and thus is shown to a cot at a corner, farthest from the luxuries of air circulation in any form.
"Who will stay with him?" the comrades ask among themselves.
No one volunteers, so I inform them that I am not planning to leaveyou alone.
They are visibly relieved and in less than a minute, every single one of them disappear. Of course they would. One of them has a job interview to attend in two days, another one was a firm believer who visited the temple of Lord Siva — the destroyer — on every Monday and everyone else have families to which they are accountable to.
My bestfriend is still around, explaining to his girlfriend the urgency of the situation that is forcing him to stay with me. I can clearly hear her angry rebukes and a final question that leaves both of us uncomfortable.
"If you care so much about her, why not the two of you hook up?"
Why not indeed, I wonder. He had wanted to, after several years of friendship. But I explained to him that romance would ruin what we had. The truth, in fact was that he was never man enough for me. You were.
My friend is restless, but I cannot yet let him leave. There are too many things that need attention and you are not yet in a position to be left alone. Your mattress, for instance, is bare and has something resembling dried excreta on one of the corners. I ask an attendant for a pillow and a bed sheet. He laughs at me condescendingly and tells me that if I need a sheet, I pay for one and buy from outside. Seeing the confusion on my face, a woman who was supposedly mopping the floor explains that if the hospital provided sheets, most of the patients would leave with those tucked beneath their shirts when they were discharged. I look at my friend who agrees to get those for me from the general purpose stores outside.
Meanwhile, you are napping or pretending to. So I call up my mother. I need to hear her voice more than anything else now. Surprisingly she is being extremely supportive. All this when it is understood that she strongly objects my relation with you on the grounds that you are a hideously rich and spoilt boy, unfocussed in your life and relentlessly following a baseless cause. While I cannot object to anything she accuses you of, it still remains that I am hopelessly in love with you. She asks me if you are fine, if the doctor examined you, what the next plan is and whether I needed any money. I answer all the questions, inform you that I didn't need any money and decide to call your brother.
Money is never a problem for you, is it? I know your wallet would be stacked with Gandhi notes of hundreds and five hundreds which your friends leisurely 'borrowed' from you. I pull the wallet out from your pant pocket and open it.
It has been emptied to the last paisa.
There is the ATM card, of course, and I am privy to its PIN, but swiping your card while you are unconscious is grossly anti-communist.
I call up my mother again and request her to transfer some money immediately to my account as she had previously offered.
Next, I try calling your brother. He is barely 2 years younger to you, a law student and his academic lineage soothes me in the current context. He does not pick the call, perhaps he was in the classroom. He will call back. He knows that I would not call him 17 times consecutively in 30 minutes unless there was something extremely urgent.
My friend returns with a sheet, pillow and a bag of fruits. We move you off the bed and spread the sheet. You do not like it one iota, but you are forced to lean against him. I am glad to see the two important men in my life huddled together, though forced under the pressure of the situation. One I am done, my friend waits for me to say something and I tell him that if he wants to he can leave. Your brother would anyways be coming soon and then he would prove a liability. He does not want to leave me alone in that hell hole, but understands and departs.
We are alone now, you and I. I sit on one edge of your bed and contemplate my next move. Nothing, nothing until your brother calls me back. Lying there in your own sheet, with your head resting on a pillow, you look like the king among the beggars.
"Are you two married?"
It is the woman who was earlier mopping the floor.
"No."
I keep my reply brief.
She smirks and leaves.
"What happened to his face?"
Another man from the nearby bed, your neighbor for the last one hour.
"Bike accident."
At this point, you open your eyes and look at me appreciatively. You are glad that I did not divulge the real cause of your wound to others. Your eyes tell me that I should side with you while you lie to your entire family on the accident that you are now planning in your head, perhaps except to your brother.
He calls me a few moments later. I explain things to him briefly and he promises to rush. It would take at least an hour for him to climb down the hill on which his college was located, get a bus and reach the hospital. I can wait.
But now, more worryingly, the bright red spot on the white dressing of your wound is widening outwards. It was bleeding, and the dressing has not been able to contain it. I call for a nurse. The same man who had tortured you earlier comes in. I point your wound to him nevertheless. He says he would get things to stitch it together to stop the bleeding. I thank him and tell him that it is ok and that certain service would not be necessary.
I know that for this lifetime, you would be left with a scar on your face. But the last thing I want is to permit a sadist to make it all the more horrendous and agonizing for you. As soon as your brother comes, we would get you discharged and move you to another hospital.
Finally, you are sleeping, really sleeping and lightly snoring, and not acting so to avoid conversation with me.
Blood is slowly trickling down your face, seeping out of the dressing and getting collected in a pool inside your left ear and on the bed around it. I find a roll of cotton near your bedstead and wipe it off. I could not find a bin to throw it away. Someone points outside and I walk, hoping to find a box or bucket there. All I find is a pile of bloody tissues and cotton, rolled up newspapers and plantain leaves, a few over-used sanitary napkins and some polythene wrappers with doubtful contents inside. I retch at the sight and the smell and hurry inside.
Your brother reaches in another 10 minutes. By then I have in my left hand around 5 balls of cotton, all wet with your blood. I kept collecting those to avoid the sight of the bloody hill outside. My hand looks almost as if painted with henna, in an unplanned design by a poor artist. We quickly get a discharge, call a cab and direct the driver to the leading hospital in the town. In the taxi, your brother tries to get a picture of the events of the day. There is nothing for me to explain, because I know nothing. You had told me yesterday that today, there would a serious face to face discussion between the rivalling sides, but had left no clue for me to guess that the discussion would conclude with a part of your face being ripped off.
Your brother asks me if I had anything to eat the entire day. It is well past noon and I suddenly hear the rumblings from my empty, protesting stomach. We still have the fruits my friend had bought and he forces me to eat an apple. Every bite takes me back to the mount of wastes in the hospital and I give up after a few attempts.
"We will get something from the hospital canteen," he promises.
Of course, the canteen in the hospital which we would enter in a few minutes was nothing short of a three star restaurant.
The rich man's hospital is much different from the poor ones'. It is well lighted and air-conditioned, with plush sofas in the waiting area, and the human emotions locked inside individual rooms and sections, so all that is heard outside is some light music playing, attempting to spread a jovial mood around. Even the smell was more tolerable, colognes and room fresheners were in a constant combat to overpower the unrelenting stench of human matter and medicines. You are first directed to the X-ray room to assess the complete damage on your face. While you remove your shirt, I count the number of red spots on your vest. After 20, I lose the count and quit.
Your brother holds my hand while we are inside. He is very fond of me, and already shares more secrets about his infatuations with me, than with you. But that is expected — unlike you, I do not push him to choose a girlfriend who knows the difference between Leninism and Marxism and encourages him to consider other lesser virtues in a woman, like love, care, kindness and basic intelligence.
The results of your X-ray is depressing. You have very few bones intact on the left side of your face. The damage is permanent. But with a little effort, some time and a lot of money, repair and control was possible.
Your brother decides to call your mother. It is beyond being handled by us anymore. Even otherwise, she has been calling me on my cell phone several times when she couldn't reach you on yours.
She reaches in less than an hour, ready with a bag of your clothes and hers, your toothbrush, tongue cleaner, shaving set and other toiletries. I hate to remind her that she would not be needing anything for your teeth or mouth or face for a while. She is somber, and decides to talk to me as we wait for the doctor in front of his consulting room.
I tell her it was an accident that happened on your way to college. She asks me the exact location and way the accident took place. I was unprepared for both questions and look at your brother for help. He fabricates a story about you skidding on the wet road and your face hitting a granite block. She is largely unconvinced. After a few moments she asks why only his face sustained injuries without even a scratch on any other part of him.
"Are you worried that he did not break his arm or foot?" your brother asks.
This shuts her up momentarily but I am sure she would be back later, when the two of us are alone.
She has never liked me a lot, don't you realize that? She found me to be a lowly born, with poor government servants for parents, who lived in a single storey building without a fancy address to boast of and who managed a seat in the college meant for rich students by virtue of something as abominable as merit. But later, as she discovered the recurring feminine handwriting in your notebooks, records and assignments, she tentatively decided to accommodate me until her son would no longer be in need of any of the above mentioned services.
But all that is fine. Either set of parents hate us. We are bonded more by hatred than by love. Some relations are. I would have written a poem about all this, if I could. But sadly, two months ago, you withdrew your permission of my wielding a poetic pen, when one of my poems on male chauvinism got featured in our college magazine and you decided that I was casting you in a bad light.
My roommate from my paying guest accommodation calls me. She wants to know why I am being late. I had forgotten to inform her of the accident. She asks me if she should come and keep me company. I wish she would, but her spirit is dampened when I tell her that your mother is already here.
Once we are inside the doctor's cabin that smells of lemons, the doctor raises the black X-ray sheet and points to your bone structure. The hole is right there for all of us to see. He speaks to us about a maxillofacial surgery or something that sounds very close to it, which reminds me of Maximus, the gladiator. As he bleats away about the insignificant cost of the round 1 of the surgery (A mere 75,000 rupees, excluding charges of admission and medicines), I imagine you in the arena, alone, facing a lion who is hungry and somehow fancies the chunk of meat on the left side of your face.
The surgery should happen immediately, he explains. The more we wait, the more irreparable would be the damage. For someone determined to spend her life with you, I should be really concerned about your looks. Surprisingly, I am not. I sure would like to see the blood stop pouring out of it. Otherwise, I think I am fine being with a man who bears the scar of manliness on his face like Michael Corleone in Godfather.
But your mother, after a brief consultation with your father on her mobile phone, decideson you having an immediate surgery. Your brother leaves with his several ATM cards to withdraw necessary funds for the initial deposit. You are temporarily taken to a VIP room by nurses who can beat models in their game. This room which smells of lavender room fresheners has 2 beds and half a dozen pillows, all clad in pure, spotless white covers, reminding me of rich Christian kids on their first holy communion .
Your mother asks me if I want to return to my PG, if so she could ask your brother to accompany me. It was getting late and would take even longer before the surgery is over. I want to stay with you, so I had requested my mother to do me a favor and get permission from the owner of my PG. With you bandaged up and in the surgery, I am sure that mother felt no worry whatsoever in letting me out late.
The operation is a long and detailed affair. They are going to remove a piece of flesh from your thigh and stitch up the hole on your face. I endure your mother during that longextent of time. She asks me what really happened. I remain silent.
"It's the politics thing, is it not?"
I do not reply.
"Can you not do anything to stop him from killing himself with this party plays? What kind of a girlfriend are you?"
A good kind, a very good kind, I wish to say. The kind who writes notes for her boyfriend, dabs blood from his wound without ahint of disgust, tolerates his mother without a sign of anger or impatience, and slogs away to make a responsible adult out of a vagrant youth — all part of an utterly underpaid, underrated and unrecognizedtemporary job.
"Will he pass in all the exams this time?"
Your mother is quite uneducated about the whereabouts of her son, I must confess. Does she not realize that including those from the previous semesters, you have more papers to clear than the number of times we have kissed?
The red light on the wall in front of the operation theatre blinks out, replaced by a soothing green. The surgery is over. I am relieved for several reasons.
"Did you know that they always ask for the dearest ones when they wake from the anesthesia?"
She is either challenging me or trying to test her son. Neither interests me, I remain silent.
For no specific reason, I am thinking of your comrades who had not bothered to drop in or call once to enquire about you. What was the aspect in the so called revolution that keep you and them so motivated? What was revolting you or what were you revolving around?
No, these are not my sighs, but the questions that I would demand answers to as soon as you wake up. At some point in the trauma I lived through today, I had boldly decided to give voice to my thoughts.
You would answer, in your deep set voice, with a mild sardonic amusement of educating an oblivious fool who knows nothing about ideologies or the power of masses. But when you speak the next time, accompanying your baritone would be a whistle, like the one from a moving train, or a police alert, reminding us of the hole that you have created for yourself, a hole that would swallow you ultimately, and drag me along too, against my will.
After an agonizing hour, another angelic nurse comes out and informs us that you are doing fine and that we can see you if we wanted to.
You are still in a slumber, draped in a pale green robe. I find a tube out from under you, connected to a bag which was slowly filling up with a yellow fluid.
You are being relegated into the lowest levels of existence.
You shiver slightly and openyour eyes and look at each of us one by one.
The first words that come from your lips which are now set on a new face, sound suspiciously similar to 'Long live the revolution.'