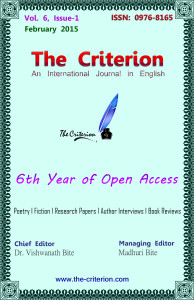 The Future!
Dr. Abdullah Shaghi
Department of English,
Faculty of Education, Zabid
Hodeidah University,
Hodeidah, Yemen.
In watch of the night,
Between irises of planets,
In folds of my repressed chest,
Be groans of the fatigues.
I watch over the future!
But, no salvation from the fatigues,
Be there.
The connective darkness has retreated;
And vicissitudes of the age,
Be pregnant with codes of the playgrounds.
"Nations," if they said, are"mud;"
No any writer would I blame.
Oh, my companion, "How?" "Tell me;"
How to survive from lies of the ideologies.
Falsified they the truthand proclaimed,
For entertainment of the desires,
In which portrait of the ethics undresses,
And I, "the morals"am absent!
Before my L,
Before my O,
Before my V,
And before my mute E,
Begroans and fatigues.
Oh,my companion, do receive;
How I look after my loving
To a morning erases those fatigues.
Spirit of who is a twin of my spirit;
Light of who has unfolded in my veins flirting,
Lighting the love a thorough warm-heartedness,
Between my irises are stars and planets.